Cooking With Mom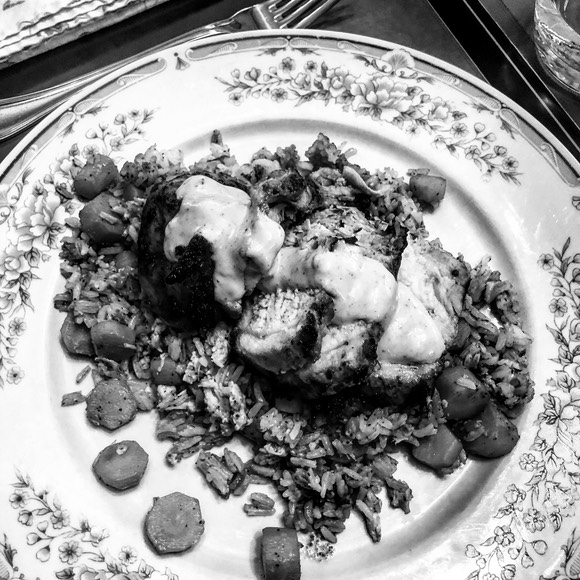 I cooked our Blue Apron with Mom today. A delicious Roast Pork & Cumin Sauce with Vegetsable Fried Rice.
The recipes have been pretty delicious the past few weeks.
It's nice to cook with Mom. I know this is something my siblings will never experience. 
I have another blog called dinnerswithmom.com that I started a few years ago where Mom and I would give recipes and occasionally a few restaurant reviews. With Pittsburgh going through a restaurant renaissance, I figured it was the perfect idea. 
It would practically write itself, I thought.
I did manage a few recipes and reviews but I soon lost motivation when Mom's mobility deteriorated. The year before her two hip replacements, despite painful injections of cortisone every few months, she was in agony with every step. 
I began to realize that I would eventually have to write about her decline. And eventually, her end. 
I abandoned the blog.
Mom has improved so much since then. Not only does she have 2 new hips, but she is gallbladder-free and able to eat almost anything.
The time has come to return to dinnerswithmom.com even if it gets sad. It's going to get sad. So I need to document the good times. 
The more I write, the happier I am. The more I write about my time with Mom, the more it will help me in the future.
When we used to make our Blue Apron recipes, I demanded to do it all by myself. Mom could barely walk, so it was just easier for me to do it. Now Mom helps chop all the vegetables and get everything prepped, and I just throw it all together. She's my sous chef.
And she loves how I plate the dishes when it's done. 
We don't watch tv, we listen to music. We reminisce. We make memories.
And we make some kick-ass food! 
Having dinner with Mom, and cooking dinner with Mom has become the best part of the day.