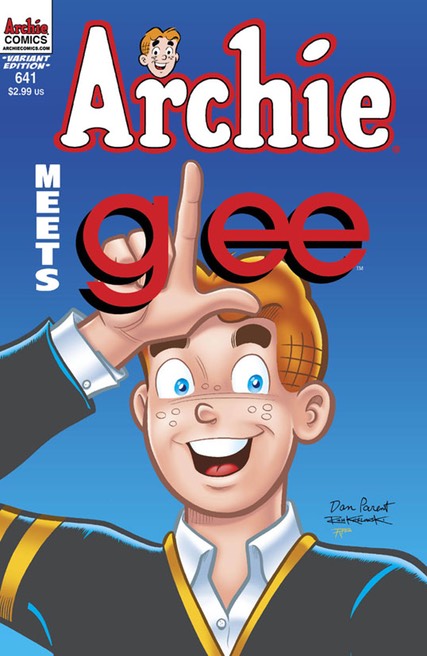 Worlds are colliding!
On Wednesday March 6th, a collision of two Pop Culture phenomenons will arrive in the form of a comic. Archie Meets Glee (in Archie #641), written by "Glee" writer/producer Roberto Aguirre-Sacasa and illustrated by Dan Parent, is a modern mash-up of Pop Culture phenomenons and sure to please both Archie Comic fans and Gleeks alike when in hits stores tomorrow.
Archie Comics is hot right now. Dan Parent, the writer/illustrator who created Kevin Keller (the first openly gay character in Archie Comics) has made Archie Comics hip, fun, and relevant, which is quite a task considering the Archie gang has barely aged since their debut in in the early 1940's. Kevin Keller's first appearance in Veronica #202 was the first comic to sell out in the long history of Archie Comics. Dan (who is not gay) has written about many issues important to the LGBT community like DADT (Don't ask, Don't tell), the right to marry, and bullying, but also satisfied our Pop Culture cravings with crossovers like "Archie Meets Kiss" and Archie meets Barak Obama and Sarah Palin. Even MAC cosmetics is getting in on the fun of Archie Comics, releasing a new cosmetics line called "Archie's Girls".
'Glee', the singing, dancing, guest-star packed refuge of the disenfranchised, from the mind of Ryan Murthy, is must watch television for most of it's fans even in it's 4th year and has a huge LGBT following. When the Riverdale gang meets the William McKinley High School glee club it is sure to bring fans of both "Glee" and "Archie" to the comic stores, some of which have never been to a comic store before.
Here are the deets from ArchieComics.com:
ARCHIE #641
"Archie Meets GLEE Part 1: When Worlds Collide" – Archie is no stranger to exciting crossovers but you're not going to believe this one until you read it! FOX's hit TV series GLEE is next in line to cross paths with the Riverdale gang in this multi-part storyline which kicks off here. Writer Roberto Aguirre-Sacasa (GLEE) teams with superstar artist Dan Parent (Archie Meets KISS) in a story which sees the Archie-verse collide with the cast of GLEE. How will Archie and friends react when they meet their counterparts? Are their alternate universes two sides of the same coin? A new year of Archie stories starts here with this epic event that answers those questions and more!
I'll be picking up my copy tomorrow, will you?
Related articles:
The Wall Street Journal (includes exclusive art preview)
and of course my articles from my CUE days
The Year of Kevin Keller (January 2012)
The Return of Kevin Keller (June 2011)
Archie's Closet (July 2010)