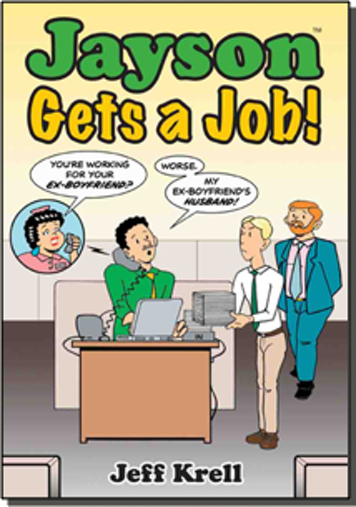 I was lucky enough to meet pioneering LGBT comic creator Jeff Krell when I went to my very first Comic Con in New York City back in 2010. I travelled with my friends at the ToonSeum and was so excited to be writing for CUE Pittsburgh. Jeff was so generous with his time and granted me one of my favorite interviews to date.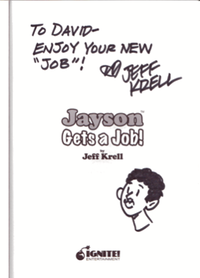 A few months ago, Jeff thoughtfully sent me an autographed copy of his latest "Jayson" book, "Jayson Gets A Job" which we had talked about over the summer. I begrudgingly told him that CUE Magazines is around in spirit only right now and that I was venturing into the wild and wooly world of blogging to fill my writing void. He encouraged me to go forth in this new venture so I think it's only fitting that he would be the subject of my first post.
Jayson 101
For those of you who may not be familiar with Jeff Krell's work, he created the character of "Jayson Callowhill" on Christmas Day in 1982 and the subsequent comic strip, "Jayson" debuted in the Philadelphia Gay News in 1983 where it ran for a year. "Jayson" caught the attention of Robert Triptow, the editor of Kitchen Sink's "Gay Comix", and after debuting in issue #6 with "Jayson Goes Home," the strip continued for 15 years in "Gay Comix" and "Meatmen". 
"Robert liked the strips," explains Krell. "But he didn't just want to reprint them. He asked me if I would be interested in writing new stories. I had just gone to my high school reunion and I thought that would make a good story."
Broadway Bound
Over the 30 years since "Jayson" was born, the character and the author have had their ups and downs. In 1998, Jeff collaborated with singer-songwriters Romanovsky & Phillips on an off-Broadway "Jayson" musical that divided critics but ran for 10 weeks at the 45th Street Theatre. After the show closed, Krell took a break from "Jayson" and moved to Los Angeles where he focused on other forms of writing, namely screenwriting. In 2004, that all changed when he went to his first San Diego Comic-Con and discovered Prism Comics, a non-profit that promotes the work of LGBT comics creators. This was the spark that rekindled the fire in Krell. "I've always loved cartooning," he said, "and I really missed my characters. Suddenly I felt like there was more of their story to tell." After collecting up his old strips into two anthologies: "Jayson: Best of the 80s" and "Jayson: Best of the 90s," Prism helped Krell launch these collections to critical acclaim. These are some of my favorites.
"The strength of the series is in its deft writing, stylish and evocative characterization and superbly bitchy dialogue. Related with all the dexterity and skill of a superior situation comedy, the cutting putdowns and snide asides are so funny you find yourself saving them up to use yourself at a later date... And while [Krell's] forte is comedy, the occasional downbeat episode manages to be moving and poignant while still possessed of a mordant humour... An enjoyable, upbeat read." – Howard Stangroom, Comics Forum
"Jeff Krell has the nerve to hold up the mirror to a gay community which often can't bear the reflection of its own two-dimensionality. How many bitchy queens have I seen stamp their feet and huff, 'What a hateful stereotype!' before going off to gossip about it with their girlfriends? Hey, folks, caricature is what cartooning is all about! We've all known people like Jayson and Arena and Robyn and the others. I love how Krell reduces their whole school of attitude to a few simply-drawn lines and choice insults." – Robert Triptow, Gay Comix
To the Future
With robust sales in 2005 and interest in "Jayson" growing, Krell decided to bring the characters into the 21st century with "Jayson Goes to Hollywood" (2008) and "Jayson Gets a Job!" (2012), which are two standalone stories. In December 2012, Krell debuted a panel called "30 Years of Jayson" at Bent-Con, a Los Angeles comic-book convention devoted to LGBT creators. He will be taking this on the road to comic-cons and Pride events throughout 2013 including the Emerald City Comicon on March 1-3 at the Prism Comics booth!
To get caught up on all your favorite characters from the pages of "Jayson" like "Arena Stage", "Robyn Ricketts", "Bertha Callowhill", "Walter Billingsley", and "Steven Puisne" it's easier than ever, because Krell has also compiled "The History of Jayson …So Far," a free e-book that Northwest Press is now offering on iTunes. "Jayson" books are available at finer bookstores, progressive comics shops, Amazon.com, iTunes, and the Prism Comics online shop. For more information, visit http://ignite-ent.com.