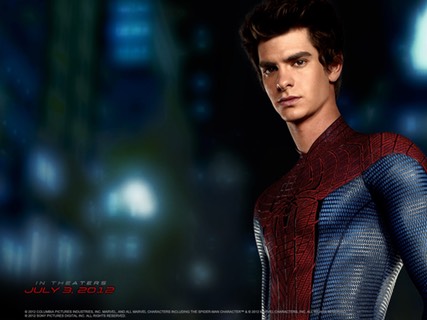 Andrew Garfield, the star of the latest Spider-Man relaunch, was quoted recently asking of his character Peter Parker "So why can't he be gay?"
He told Entertainment Weekly of a conversation he had with producer Matt Tolmach about the character of Mary Jane Watson and why it would be a compelling story.  "I was kind of joking, but kind of not joking about MJ," he told EW. "And I was like, 'What if MJ is a dude?' Why can't we discover that Peter is exploring his sexuality?  It's hardly even groundbreaking!…So why can't he be gay? Why can't he be into boys?" 
He even had an actor in mind (Michael B. Jordan from Friday Night Lights and Chronicle fame). 
I'm always happy to hear when heterosexual allies are secure enough to at least think of story lines that include the LGBTQIA community. Esspecially when it would make a very compelling story, and I think a Peter Parker who had to deal with the complex issue growing up Gay in America would resonate with many fans.
Cheers to Andrew Garfield for thinking outside the 'closet'.