Deadhead Godfather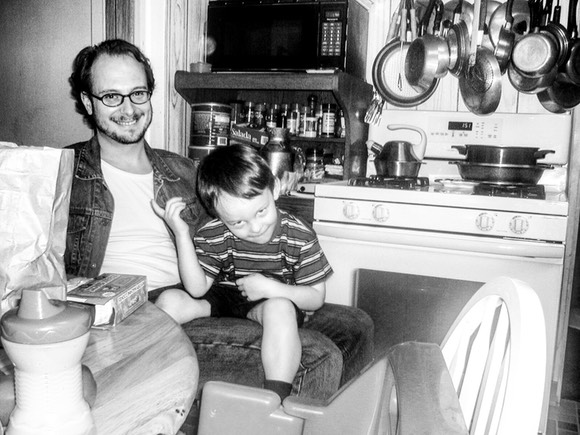 The power went out last night.
I finally got around to watching Justice League and the whole block goes dark.
I knocked on Mom's bedroom door to see if she was okay, because I didn't want her to wake up and be scared. 
So I woke her up and pretty much scared her. She probably would have slept until morning and not even noticed the power went out, but she did seem comforted that I was there. That made me feel good. I made sure she had 2 flashlights, and reminded her of how you make her iPhone into a flashlight, just in case.
As I left her room, the alarm downstairs on the stairlift beeped to remind me the power went out. 
I went back to my room and lit some candles my friend Wendy made me years ago from Holden's baby food jars.
Holden is my godson. His Uncle Jimmy is actually his official godfather, but Wendy was nice enough to include me. Maybe she knew I would never have kids. I was kind of a deadbeat godfather. Actually, I was closer to being a Deadhead godfather. We did take him to the "Other Ones" concert, featuring the remaining members of the Grateful Dead, at Star Lake when he was just a few months old. 
We read comics and watched cartoons.
I got him an inflatable "Big Comfy Chair" to sit in while watching Blue's Clues. 
I came for birthdays, and I brought comic books, but I was too preoccupied with my own drama in the big city to really be any kind of father, deadbeat, deadhead, or otherwise. I lived in Harlem for years and rarely saw him.
But we're friends. Now. 
He can literally tell me anything. Not that he always does, but he knows he can.
I was there from the day he was born, all premature and slightly jaundice. His mother's water broke on her birthday, Wednesday, April 1st, but he didn't want to make an appearance until Sunday. He still has a flair for the drama. 
But he is a good kid. He's smart, and sarcastic, and funny, and deep. He knows computers and he's doing well in college.
I couldn't ask for anything more.
I am a Grateful Godfather.