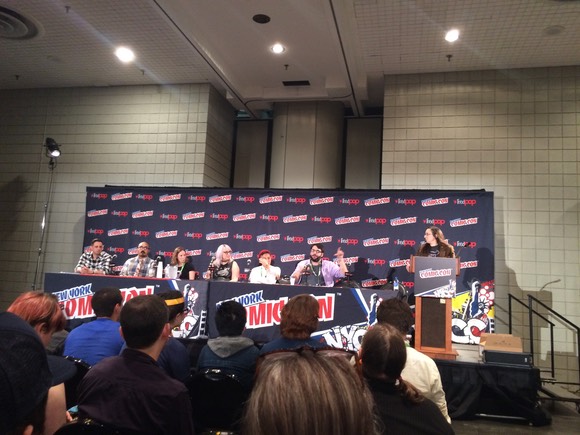 One of the panels I look forward to most at Comic Con is the "New York TimesOUT Presents LGBT in Comics" panel. Jude Biersdorfer, who writes about Consumer Technology for the New York Times and is Production Editor for the New York Times Book Review, moderated the panel which included (from left to right) Steve Orlando (Midnighter), Kris Anka (Captain Marvel), Jennie Wood (Flutter), Babs Tarr (Batgirl), Kevin Wada (Scarlet Witch), and James Tynion IV (Batman Eternal).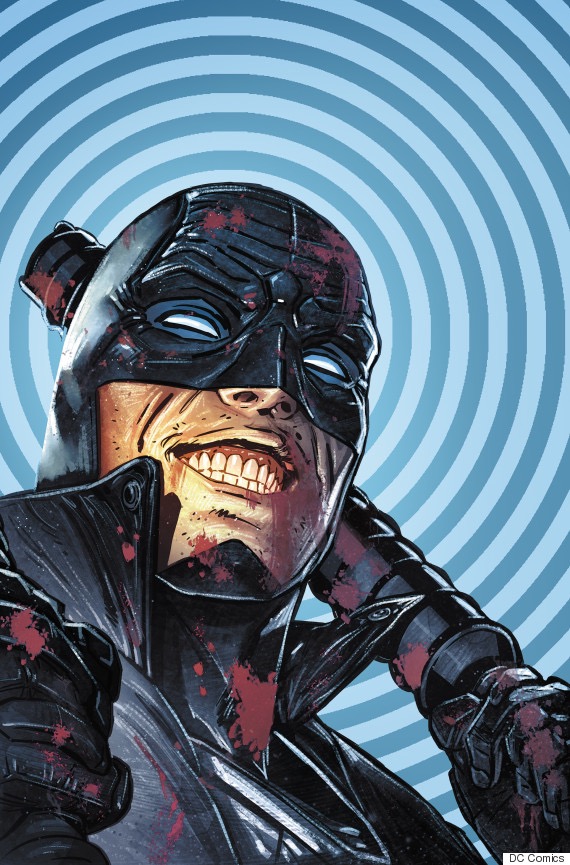 Midnighter is a character created by writer Warren Ellis and artist Bryan Hitch back in 1998 and was very much like Batman but gay and in a relationship with a Superman-esque character named Apollo who had the power of the sun. Ellis has described Midnighter as "The Shadow by way of John Woo". I originally wrote about these characters back in 2009 when I wrote for CUE Pittsburgh. The characters, formerly from the Wildstorm Universe, have been rebooted and now are a part of the main DC Comics Universe. As a result, their story has been slightly changed and now they are no longer a couple. 
Steve Orlando was caught in traffic and made it just as the panel began. 
"Did you get one of those Golf Carts, like at the airport?" Jude asked.
"Oh yeah," Steve replied.
"Steve you know here is the writer, among other things, for your monthly dose of Midnighter from DC Comics. He's also writer of Undertow from Image." 
(Applause) 
"You said in recent interviews with the Los Angeles Times that Midnighter and Apollo and The Authority made a huge impression on you when you were younger and now you are writing the Midnighter book for DC Comics, one of the only monthly books from the big publishers that stars an unapologetic, out, gay superhero, but he's single now. How important is going solo with his character development and what will Midnighter be discovering about himself as his story unfolds as a young guy looking for something to do between fights?"
"I think it was important to have a separate character. I mean, on one hand yes you have a strong history of Midnighter and Apollo being a couple, however when we met them in StormWatch originally in 1998, they'd already been together 5 years, off panel, to decide if they were one for each other. Since we brought Midnighter into the DCU they'd been together for at most a couple months before they decided it was time for a break so you are really occupying the space where they're not in a relationship which we've never really seen before.
"And I think for me it was important to… (pause) Just like we face ourselves, so much of Midnighter was about Midnighter and Apollo and we want to see any type of relationship where we are defined by another person, we have to be people too, so I wanted to give him a chance to do that. I wanted to give him a chance to figure out who he was and not just be defined by his relationship with Apollo. He was dating a God and that's a lot to step up to.
"To have that moment where he steps out into the world and says this is what I am, and for him especially, it's a greater thing because he has no backstory. Midnighter is who he is all the time. So the idea of not having a secret identity, of him living 100% true to himself all the time, I wanted to move away from all the structures and a lot of the safety nets so we can really examine that. 
"And I'm glad that it's doing well. You know it's not 1998 anymore. Back then it was disruptive to show the fact that he and Apollo were in a committed relationship, to show gay men at all. But now you get that on Modern Family, two men sleep next to each other and maybe they're friends, you don't even know, (laughter) and so I wanted to do something more. I wanted it to be frank, like a gay man being gay. And be responsible but sexually active and active in the social scene in a way that is spiritually as disruptive as they were when they came out, but it's a different time now and we have to push forward. We deserve that kind of representation."
"In the back of your mind, or maybe the front," asked Jude, "is Midnighter a note to every queer kid who got threatened or beat up, just from how he fights?"
"I mean sure. That's not to say Midnighter's violence is the role model, we all know we shouldn't be exploding each other's faces, but the way he lives his life is something we all can aspire to. To not second guess yourself, to not have any of those moment where we question if we are going to be true to ourselves. I do think he's iconic for that and it's an iconic hope for that reason. And yeah we all have that wish that we could tap that bully on the shoulder. 
"We all deserve that type of hero. And it's not just about Midnighter, it's about queer representation in comics in general. I'm certainly part of it but I'm not the only one because Comics is like an outsider movement. Back in the day it was like nerds being like 'I get beat up at school and Peter Parker also can't get a girl and can't get a friend, he's just like me but also a superhero' and we all deserve that kind of wow moment. To see them, to see their life and not have to adapt it to some other narrative. It's not just a note to queer kids in high school a note to everyone who got beat up.
"Another important thing is everyone has problems, these problems are like mine,but there's still that spark of the fantastic. Beyond just the queer community but everyone deserves that."
There's more to come from the panel in the next week (once I finish transcribing the rest of the panel discussion). Stay tuned!