It was Sunday, the last day of New York Comic Con 2014, the biggest Comic Con ever, and I needed to get to the GeeksOUT booth pronto. I ran through the crowds as fast as I could with my golden claws on and almost skewered a Deadpool and a "New 52" Wonder Woman along the way. I made it to the booth just as Jeff Krell was packing up to leave. His time was up at the booth so we just stood in the middle of the aisle, while he talked into my iPhone, as rivers of people flowed around us.
"So Jeff," I said, "let's get things started. What new projects can you tell me about?"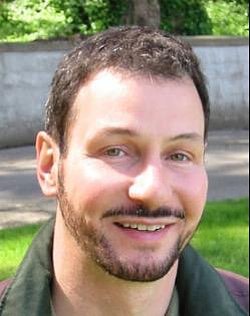 "First off, there is JAYSON GOES TO HOLLYWOOD: The Movie. You see, Jayson is really going to Hollywood. I'm working with Felix Pire, a gay writer/actor/producer, probably still most famous for having starred in the one man show "Men On the Verge Of A Hispanic Breakdown". He approached me around Christmas and asked if I would entrust him to develop a small budget movie based on Jayson and I proposed [my 2008 graphic novel] Jayson Goes to Hollywood as the project. We've been developing it and we now have a draft of the script. We are going to announce the project during my panel at Bent- Con on November 8th."
FYI, Bent-Con is in Burbank, CA from November 7-9th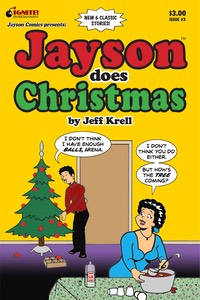 "Next," he continued, "we have JAYSON DOES CHRISTMAS. I've done several Christmas stories over the years and what I've done with this new book is collect up all those classic stories from the 80's and 90's, including one from the very first year of the strip in the Philadelphia Gay News from 1983 that no one has seen since. I did a new lead story called Jayson Helps the Homeless and it's a very special episode of Jayson, because it's still funny but it has a message, that 40% of homeless youth are LGBT. 
"Last year, through the company I work for, we sponsored a Holiday party for LGBT homeless youth. It inspired me to write a story in which Jayson's neighbor Robyn Ricketts -- who owns the bar downstairs, which used to be Dirty Frank's [which is a real bar in Philadelphia at 13th and Pine], which is now made over in his own image as "D'TRIX" with himself as headliner Marlene Dietrich – hosts a similar party, with Jayson and the gang pitching in to help. That's the new lead story in this book JAYSON DOES CHRISTMAS, which is going to come out in 3 weeks.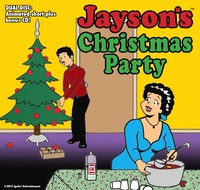 "There is also a story that I did in the 90's called Jayson's Christmas Party, which is in that collection, and we've turned it into an animated short which just debuted on YouTube. If you type in Jayson's Christmas Party it should be the first thing that comes up. We established a Jayson channel on YouTube and this is the first thing we've posted. 
"At the panel we're doing this year, called Jayson: Queen of all media , we're going to screen the animated short. We'll tell stories about the making of the off-Broadway Jayson musical and the plans to remount it in Los Angeles in 2018, which will be the 20th anniversary, and we're going to announce Jayson goes to Hollywood: The Movie. That will fill up an hour real fast. 
"We'll have…It's getting crowded." People kept bumping into us. "We'll have Matt Crabtree on the panel," he continued, "who was in the Jayson musical and he performed the lead voice for the animated short. Felix Pire, who is a force of nature, will get people excited about the movie and we'll tell stories and we'll name names. At Bent-Con we will be selling DVD's of the Christmas Party and the Jayson Does Christmas comic book. It's the right time of year, they'll make great stocking stuffers. 
"Something else I'm going to do in time for Comic Con next July is, I'm going to do an Arena Stage solo comic with a new lead story and some of my favorite classics from her over the years. In the late 90's, I tried to develop Arena as a mainstream comic strip for newspapers, but it never sold, even though I did get some positive feedback. If you are familiar with Jayson, you know that at the end of the 80's, Arena actually leaves him, goes back to her family, and off to New York after the wedding that doesn't come off.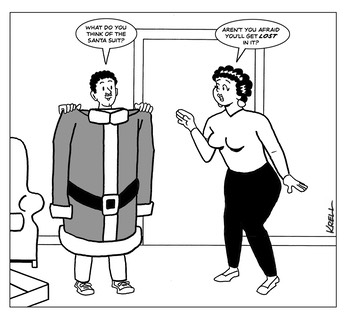 "That was my way of spinning her off into her own strip, which was set at her family owned ad agency. That's what the mainstream strip was about. I finished 4 Sundays and 5 weeks worth of dailies. It was a three panel, gag-a-day strip, but it was told in a serialized fashion. I never finished the story. I did the first five weeks of it. 
"So if the Arena Stage comic book is well received next July, I'm going to finish that story arc of when she moved back to New York and worked for the agency, ending with her firing. Because she comes back in the early 90's, you may recall, to Jayson, with her tail between her legs and begs for her sofa bed back. So, we have that going on too.
"So much stuff," I exclaimed.
"Then, I'm working on the next Graphic Novel in the Jayson series. As you know, after I did the collections, collecting up all those stories I did in the 80's and 90's, they were so well received that I started doing graphic novels. The first was Jayson goes to Hollywood. The next was Jayson gets a Job. And here's a scoop for you! The next one is going to be called JAYSON GETS MARRIED"
I gasped like a giddy bridesmaid.
"Out in 2016," he added.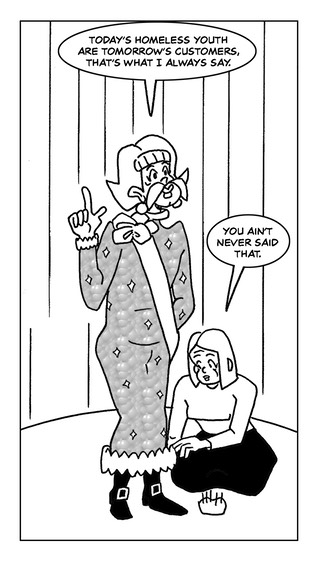 "You are a busy man," I said. "I am so happy for you! I am so happy for the whole industry because I think your success is great. What year was it that we first met and I interviewed you for the magazine?"
"It must have been 2009, because it was just after Jayson goes to Hollywood came out. It was the first time I was at New York Comic Con."
"Mine, too.  You were so sweet because I was so nervous and I didn't know what I was doing but you were just so nice, and it made a good piece. I remember it was crowded."
"I was sharing a space with several other cartoonists because after that, for the next couple of years, Prism Comics was there so I worked with them. Now I'm working with GeeksOUT. The first year was four of us all clustered in to one little space. That was my first taste of New York Comic Con. But I lived here for 10 years so I love coming back and seeing all my friends who still live here. That's why I come back."
Just then I get a plastic sword graze my ass and a 6 foot dragon ball needs to get behind Jeff and squeezes behind him. Hordes of people are streaming around us on either side. I almost stab someone with my claws, again.
"I didn't get to tell you much about the reading we did on Friday night [at the LGBT Center]. We read this pivotal scene of the screening party where Robyn debuts this film called "Genital Hospital" starring Eduardo Rivera as "Dr. Love". Jayson and Arena are reluctant to go to this party, because Ed is Jayson's boyfriend, and he used to be Arena's boyfriend, as well, back in high school. And neither of them really wants to see Ed pound another man's ass for two hours. Which is the second line in the scene. So we read that and I had my friend Julia hold cartoon head shots of all of the characters, so that I could read the script without announcing who was saying what and people could follow along. It made it fun. The scene killed. Everyone laughed in all the right places, so I think we are on the right track with the tone of the screenplay.
"As soon as we launch the fundraising campaign, Felix is going to pull in some of his famous friends and we're going to stage a reading somewhere in Hollywood. So, I look forward to that. I look forward to real actors reading these lines as opposed to me. I mean, I know the characters. They speak in my head. So I can kind of present the lines the way they would say them, but I'm no actor. It will be fun to see real actors play and I get to sit back and watch."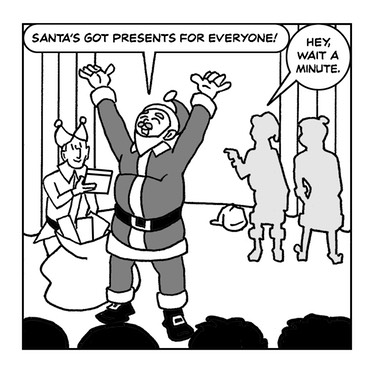 "What is it like after all these years to see Jayson getting bigger and better? This idea you had…"
"32 years ago," he interjected.
"From your love of Archie and your desire to see someone like you represented and be a part of that. Reflecting on back on your career, it seems like it's just getting bigger and more popular. How does that feel?"
"It feels like it's gaining momentum now. For a long time …," he pauses, "I'm glad I stuck to my guns, I'll say that. When I started off people sort of didn't get what I was doing or didn't think I belonged "at the party". The kind of gay comics that were out at the time were either very political or they were sex comics and I was doing a humor comic that looked like Archie. People didn't know what to make of it and maybe didn't think I should be playing in that space. But this is how I wanted to tell the story. Lo and behold now even Archie has a gay character and they're playing in that space and they're finding just how malleable their characters are by taking them in to the horror genre with Afterlife with Archie. The New Sabrina is more like a Rosemary's Baby kind of thing."
"Exactly," I concur.
"If you understand your characters and you trust them, you can take them just about anywhere. This is the style I wanted to use to tell my story. Here, I'll tell you another story, this isn't exactly a scoop, but there's all this backstory to Jayson's universe that I've never gotten to tell because when I started doing the strip it was right after I graduated from college and so the strip opens with Jayson already living with Arena, who he met in college, already having broken up with Walter who he had a relationship with while he was in college, and having met and befriended Robyn Ricketts, who Arena hadn't met yet. That didn't happen until issue 7 of Gay Comix, in a story called Jayson gets a visitor [which also appears in the Eisner-nominated anthology "No Straight Lines: Four Decades of Queer Comics].  It turned out to be comedy gold and I found myself scrambling to find a reason to have Robyn move to Philadelphia and move in next door shortly thereafter. Because of the chemistry between Robyn and Arena …why wouldn't I want to do more of that? 
"But there's all this backstory about what happened to Jayson in college, how he met Arena, what that relationship with Walter was about, how and when he met Robyn and why Arena didn't. The next graphic novel in my series was intended to be called Jayson goes to College or something like that. 
"I did the strip for a year at the Philadelphia Gay News and then it got picked up by Gay Comix with issue six and Robert Triptow, the editor, didn't want to just reprint the strips. He asked me what I thought about doing stories and I hadn't, but I'd certainly wanted to. 
"I grew up with the era of Archie comics where each issue had four six-page stories and they were all incredibly well crafted. So I started doing six page stories for Gay Comix and the first one was called JAYSON GOES HOME and the very first page, the splash panel of that story, is Arena packing up to go to Jayson's 5th year High School reunion and then they're off to Farmville. So what I wanted to do with the next graphic novel series is draw Jayson and Arena with the exact same structure to that panel, of them getting ready to go to they're 5th year High School reunion, and tell the rest in flashback. Like, 'Oh remember how we met?' 
"I've been trying to do this for a while but I haven't found my way in to it. Because when I try I realize that was actually a very dark time for me. Every time I tried to write it I couldn't find the funny in it. To the point when I actually considered using a different artist and render it in a more realistic style and really sort of tell my story. But when I started working my way through that I realized that this is why I wanted to do a comic strip, after that experience in college. That I wanted it to be bright and colorful and funny and I wanted it to be told in the Archie style because I needed to take a lighthearted look at a time in my life that wasn't lighthearted at all.
"I needed to make myself laugh because it was a very painful time, so that's why I chose that style and why I spent a long time trying to explain to people why this was the style that made sense for me. And still does.
"So if I've learned anything over all this time it's go with your instincts, stick to your guns, and find your audience. Because there is an audience out there. My audience had to develop. When I was doing that strip originally, because of the nature of gay cartooning at the time, everyone in the gay community told me I was doing it wrong. So I really had to question that. But when I put the collections together in 2005 I had whole new generation of readers and reviewers discover it and didn't tell me I was doing it wrong. In fact, they said this is the one strip from that era that stood the test of time. So that made me feel like I was doing something right or at least listening to my instincts. Although anyone who's done this for a while will tell you that they look back at their early stuff and they want to redraw everything, and so would I. Maybe someday I will because I'd like to republish it all in color and in cleaning it up, it would probably be easier to just redraw it to do the color."
The crowd was getting crazy and Jeff's phone was ringing, so we hugged and said good-bye. Until next year.